I wasn't pleased with my first attempt to turn lilies into a kusudama (you can see it
here
), so I tried another way to assembly the flowers and I love the result!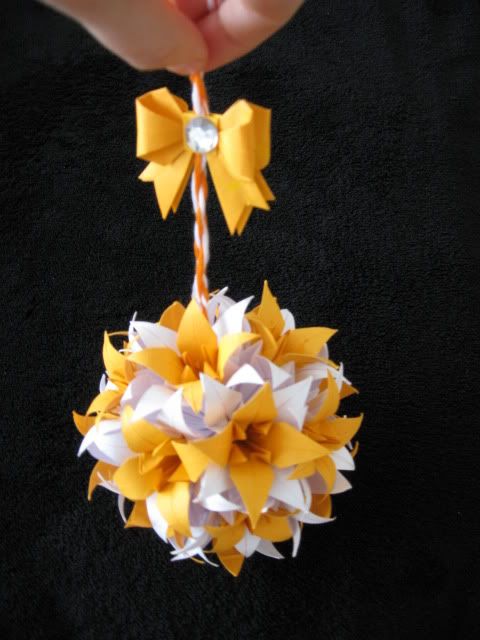 Did you know....
...that origami doesn't just cover immobile things, it also covers moving objects? Origami can move in clever ways. This technique is called Action Origami and includes origami that can fly,or the ones that use kinetic energy of a person's hands which applied to a certain region on the model can move any flap or limb. Bangers are models that make a noise when flicked down hard.
Action origami is normally perceived as a tool built to amuse but some are designed to inspire wonder.
Yami Yamauchi
has designed some action origami.
He is an origami enthusiast, a teacher, and an innovator who has created many, many models that have inspired and delighted origami followers. He teaches and promotes origami at schools, in community organizations and motivational seminars. Yami Yamauchi was the 2006 receiver of the Ranana Benjamin Award from Origami USA honoring his contributions as a teacher. This honor goes to an origami teacher, particularly those who work with children, for outstanding contributions in the teaching of origami.
"Within a single sheet of paper exists unlimited beautiful forms, which you will enjoy, ORIGAMI." -Yami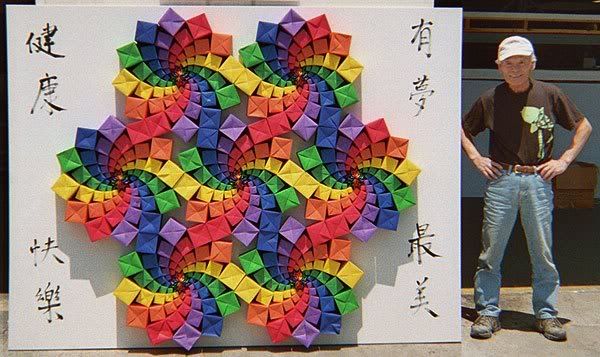 "Life is Beautiful", pictured above, was a collaborative effort with John Andrisan (mathematical graphics), Joe Hamamoto (folding) and Peter Kuo (Chinese caligraphy).
In this video you can see a demo of 9 origami action models designed by Yami Yamauchi.
1) Jacob's Ladder
2) Super Jumping Frog
3) Doodlebug
4) Fireworks
5) Magic Wallet
6) Magic CD Case
7) Little Blow Top
8) Dreidel
9) Spinning Top
PS: aimee, thanks again! :*